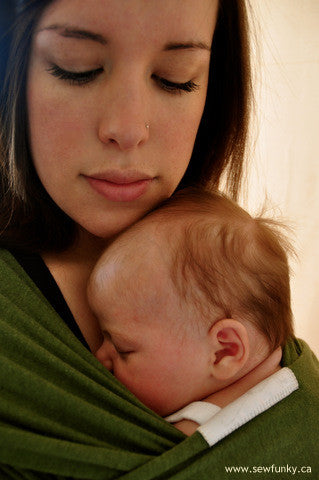 Sewfunky Panda Wrap - Olive Green
I am so excited to offer bamboo wraps for wearing your new baby! The jersey fabric is made from 70% bamboo fiber and 30% organic cotton that is soft, silky and lustrous. It's the perfect fabric to have next to a newborn baby's skin! Bamboo fabric is light and strong and naturally wicks away moisture and has an antibacterial quality making it perfect for a wrap! Many people who have experienced allergic reactions to other natural fibers like wool and hemp will find they won't have these issues with bamboo. Each wrap is 5.5 yards in length and comes with instructions for you to learn to wear your baby. The center is marked with our Sewfunky Label to make putting your wrap on much simpler! A wrap is truly the most secure way to carry your baby completely hands free.
The weight recommendation for these wraps is full term birth up to 18-20 pounds. You are welcome to continue using them up to 30 pounds but as your baby grows you will find that the jersey will stretch with your baby's weight and you will have to re-tighten your wrap occasionally to have a comfy fit.  A wrap is a safe way to carry baby upright and high your chest which most small babies prefer. Being upright helps a great deal with reflux or babies that have gas. Because a wrap is worn on both shoulders it is an excellent choice for those who have back or neck pain and makes you hands free with a newborn.
Each wrap is finished with silky soft stretchy serger thread! This knit fabric is finished and dyed in a closed environmentally friendly facility. No dyes, bleaches or finishing residues are released into the environment.
Care instructions: Wash on gentle in cold with eco-detergent and tumble or hang to dry. Putting it in a lingerie bag or pillowcase would be ideal to stop it from wrapping around the spindle!
Price : $69.95 CAD (includes a handy hemp tote)
---
Share this Product
---
More from this collection